Kiterjesztett ellenőrzésű (EV) SSL
Aktiválja a zöld címsort és a legnagyobb biztonságot nyújtja.
Kiterjesztett ellenőrzésű (EV) SSL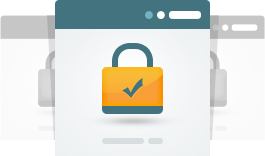 Az EV SSL egy kiterjesztett érvényesítési tanúsítvány, amely a ma elérhető legmagasabb SSL-osztály, és nagyobb hitelességet és bizalmat ad a webhelyének, mint egy szervezet vagy tartomány által ellenőrzött SSL certificate.
Extended Validation SSL a legtöbb esetben zöld színnel jeleníti meg a vállalat vagy a webhely nevét. Ez a kiemelkedő vizuális ellenőrzés a látogatók további bizalmat, hogy lépéseket tettek, hogy erősítse meg a személyazonosságát a honlap és az üzleti ők látogatják, növelve a felhasználói bizalom a honlapon, és annak hitelességét - ez az, amiért a legtöbb nagy vállalatok és szervezetek választhatnak EV tanúsítványokat.
Contains Your EV Authenticated Organization Details
Certificate details indicate your website is using an Extended Validation SSL Certificate and include the issuing CA, validity status, and expiration date.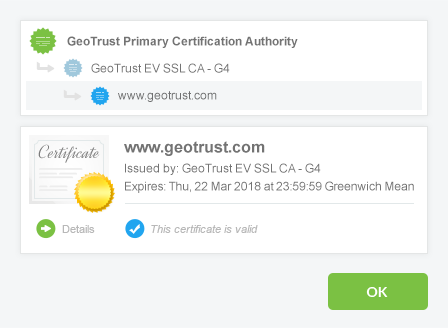 Green Address Bar
Activates the green address bar and displays your company or organization name for a prominent visual security indicator.
Trust Site Seal
Our SSL Certificates come with a trust seal that has been proven to increase visitor confidence and customer conversions.
$1.5m Warranty
EV Certificates come with a $1.5m warranty that covers data breaches caused due to a certificate flaw.
Certificate Features
Secure online transactions
99.9% Browser Compatability
Our SSL certificates are from some of the most trusted brands in Online Security.



Powered by WHMCompleteSolution