אימות מורחב
צבעו את חלון הכתובת בצבע ירוק כדי להציג באופן ברור ללקוחות שלכם שאתם מאובטחים ומאומתים – והגדילו את יחס ההמרה באופן משמעותי.
מהי תעודת SSL עם אימות מורחב (EV)?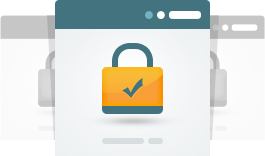 תעודת SSL עם אימות מורחב (EV) היא תעודה מהרמה הגבוהה ביותר של תעודות SSL מאחר ובהנפקה שלה אתם עוברים תהליך אימות מורחב ומקיף. האימות המורחב משפיע בצורה הברורה ביותר על האמון והביטחון שהלקוחות והמבקרים באתר שלכם חווים לעומת כל תעודת SSL אחרת.
ברוב המקרים בעת שימוש בתעודת SSL עם אימות מורחב (EV) שם החברה או האתר שלכם יוצג בירוק בשורת הכתובת בצורה ברורה ומודגשת המאפשרת לגולשים לראות באופן מידי שמדובר באתר מאובטח ובחברה מוכרת ולכן רמת הביטחון והאמון שלהם עולה באופן ניכר. זאת הסיבה שרוב העסקים והארגונים הגדולים בוחרים בתעודת תעודת SSL עם אימות מורחב (EV).
Contains Your EV Authenticated Organization Details
Certificate details indicate your website is using an Extended Validation SSL Certificate and include the issuing CA, validity status, and expiration date.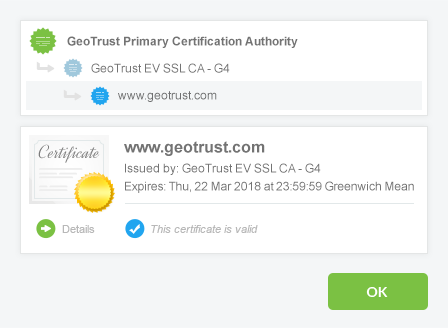 Green Address Bar
Activates the green address bar and displays your company or organization name for a prominent visual security indicator.
Trust Site Seal
Our SSL Certificates come with a trust seal that has been proven to increase visitor confidence and customer conversions.
$1.5m Warranty
EV Certificates come with a $1.5m warranty that covers data breaches caused due to a certificate flaw.
Certificate Features
Secure online transactions
99.9% Browser Compatability
Our SSL certificates are from some of the most trusted brands in Online Security.



Powered by WHMCompleteSolution