Organisasjonsvalidert SSL
Høyt assurert SSL viser dine besøkende at du har autentisert din identitet
Hva er organisasjonsvalidert SSL?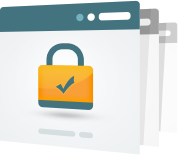 Organisasjonsvalidert SSL sertifikater gir deg en umiddelbar bekreftelse på din identitet og sterk SSL beskyttelse for din nettside og bedrift.
OV SSL er et organisasjonsvalidert sertifikat som gir din nettside et hakk opp i kredibilitet over et domenevalidert SSL sertifikat. Sertifikatet aktiverer nettleserens hengelås, aktiverer https, viser organisasjonsidentiteten og forsikrer dine kunder om at du tar sikkerheten seriøst. Besøkende på siden kan verifisere at sider er operert av et seriøst selskap og ikke en svindelorganisasjon.
Contains your Authenticated Organization Details
Certificate details indicate your website is using an Organization Validated SSL Certificate and include the issuing CA, validity status and expiration date.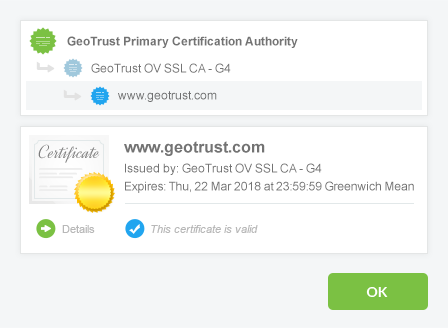 Organization Validated
With an OV SSL Certificate, the identity of the company or organization that holds the certificate is validated, providing more trust for end users.
Trust Site Seal
Our SSL Certificates come with a trust seal that has been proven to increase visitor confidence and customer conversions.
$1.25m Warranty
OV Certificates come with a $1.25m warranty that covers data breaches caused due to a certificate flaw.
Certificate Features
Secure online transactions
99.9% Browser Compatability
Our SSL certificates are from some of the most trusted brands in Online Security.



Powered by WHMCompleteSolution